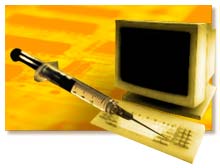 Onsite Virus Removal

It is important to keep your computer data secure and safe. Having an up to date Virus Protection Software is one of the most important responsibilities of safe, trouble free computing. Without virus protection, viruses may destroy data, disclose data, replicate itself to friends, and render your computer unusable.

If you suspect your computer system is infected with a virus and you have virus protection software installed, it is recommended that you update that software and run a full system scan. If your system has a virus and you can't get rid of it Korrect Technology can remove it and restore any files needed to get your system up and running.
Computer Services
Desktop Computer Repairs
Laptop/Notebook Repairs
Printer Service & Repairs
Server Service & Repairs
Project Management
Application Development
Database Administration
Network Services
Oracle / PeopleSoft
IT Training

Computer Products
Desktop Computers/Monitors
Notebook/Laptop Computers
Printers
Multifunctional Copier/Fax/Scanner/Printer
Servers